SportsDegrees.org is owned and operated by Enroll Education LLC. For decades, Enroll Education has been researching degree programs within growing areas of higher education. We have worked with hundreds of universities and researched thousands of programs at all levels.
Our goals and mission are simple: Do our research, create easy-to-use websites with unique information, and help students find the best colleges for their personal circumstances.
Over the years, we have reviewed hundreds of programs, careers, and data to help this website grow. We are continuously researching specific programs, and reviewing them for our readership. The information and data on our website has been reviewed by top sports administration and management professionals in the industry, and has been cited by hundreds of industry organizations and higher education institutions.
The Team Behind SportsDegrees.org
There are a number of researchers, fact-checkers, writers, programmers, designers, and other contributors and advisors that work on SportsDegrees.org.

Alexis Bennett – Writer, Contributor
MS in Sport Management (University of Florida)
Bachelors degree in Marketing (Southern Methodist University)
Current Division I women's golf coach with 8 years of head coaching experience. In addition to an extensive background in golf, Alexis holds a Bachelors degree in Marketing from Southern Methodist University and a Masters degree in Sport Management from the University of Florida.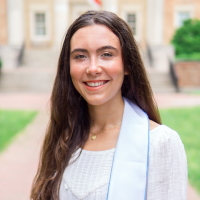 Sydney Lopez – Writer, Contributor
Human Physiology and Athletic Medicine (in Progress)
Bachelor of Arts in Exercise and Sport Science (University of North Carolina at Chapel Hill)
Sydney Lopez is currently completing her Master of Science in Human Physiology and Athletic Medicine while working as a licensed athletic trainer and physician extender at the University of Oregon. She earned her Bachelor of Arts in Exercise and Sport Science as well as a minor in Social and Economic Justice from the University of North Carolina at Chapel Hill. While working as a student athletic trainer, she had the opportunity to provide medical care to the UNC Football, Women's Soccer, and Men's Lacrosse teams. She has also had the opportunity to work as a student athletic training intern for the New York Football Giants. This involvement in a wide range of types and levels of sport has given her a unique lens into the inner workings of sport organizations. It has also guided her M.S. thesis research examining sport-related concussion in high school sport.